GoldengazeGoldengaze (talk) 08:54, September 7, 2013 (UTC) hi everybody just so you know I have been looking in to it and found out that there is a high chance of firestar going cannibalistic. I mean seriously with all those cats out to get him the easiest thing to do is to eat them. Since he is in starclan i guess he would drive over to maccas and try to find tigerstar then order him.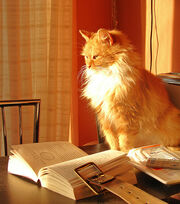 Mmm what's on the menu tigerstar burger? Or hawk frost fries?

Hey Goldengaze :D Welcome! I'm kinda new, but I could help with some things too. I'm Firey. Hope to see you around! I got a call saying I was famous,but it was from 911 14:43, September 7, 2013 (UTC)
Welcome!
Hi, welcome to the Warriors Fanfiction Wiki! Thanks for your edit to the User:Goldengaze page.
Before you look at the wiki, please read the rules.
If you want to meet the staff and the users, please take a look here!
If you feel like reading a new exciting fanfic but are not sure which, press the Random Page button!

Feel free to use the IRC to talk with other members here!
Thanks for contributing to the Warriors Fanfiction Wiki. Happy Editing! Please leave a message on my talk page if I can help with anything! RedPandaPotter (talk) 22:35, September 7, 2013 (UTC)
Hi! Welcome to the wiki! I hope you have a nice time!
May StarClan light your path!
~ Infect me with your lies and fill me with your poison 11:07, September 8, 2013 (UTC)