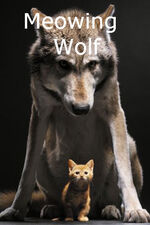 GENRE: Action, Thriller, Drama
This is a Fanfiction Series by Wetty
Set 1
Dark Life
Howling Night
The Rager
Darkening Pack
The Wolf
Spoilers for Blazing Dusk
Duskkit was abandoned by his mother and wonders into WolfClan, the WolfClan leader takes him in. Soon he becomes an "Small-tooth" (apprentice) but his mentor isn't the best Wolf in the Pack, or Clan. Graystar can't believe what Shade-eyes is doing to Duskpaw. Duskpaw is getting a bit too angry on this and gets ready for a battle with Shade-eyes. He cannot keep his claws out long and theres a dog attack on the camp. Duskpaw is getting stronger but also doesn't think he can take on Shade-eyes. Maybe with the help of his friends Rosepaw and Rockpaw he'll get strong enough. Will this small cat stand a chance over this wolf? Or will he be the Final cat in WolfClan?
Ad blocker interference detected!
Wikia is a free-to-use site that makes money from advertising. We have a modified experience for viewers using ad blockers

Wikia is not accessible if you've made further modifications. Remove the custom ad blocker rule(s) and the page will load as expected.