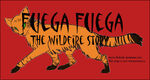 GENRE: Adventure, Drama, Romance
Fuega Fuega is a three-part novel written by Shaf Girl.
The story revolves around the life of a cat born as Fuega and how she changes the fate of the new generation of cat Clans.
This[1] is the very old version of this story. Be warned that there are spoilers in it.
NEW: List of Characters
Contents
Part 1: Fuega
You Know, You Know, No, You Don't, You Don't
More Coming Soon
Part 2: Wildpaw
Coming Soon
Part 3: Wildfire
Coming Soon
Ad blocker interference detected!
Wikia is a free-to-use site that makes money from advertising. We have a modified experience for viewers using ad blockers

Wikia is not accessible if you've made further modifications. Remove the custom ad blocker rule(s) and the page will load as expected.